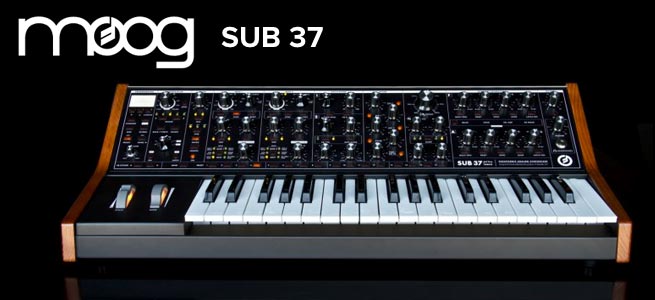 The limited edition SUB 37 Tribute analog synthesizer is now available for shipping.

The SUB 37 Tribute Edition is built on the Sub Phatty sound engine in honor of Moog Music founder Dr. Robert Moog. Its panel features 40 knobs, 74 switches, and has a dedicated LCD display. It also includes Bob Moog signature panel, Wood sides, and Aluminum extrusion. You can get more info and buy it online HERE
Check out the video below featuring Moog Music Chief Engineer Cyril Lance giving an overview of the technical effort and advancements made during the design of the Sub 37 analog synthesizer.
• Perform in Monophonic or Duo-Paraphonic modes
• 37-note velocity sensitive keyboard w/ aftertouch
• 2 modulation busses w/ assignable source and destinations
• DAHDSR (Delay, Attack, Hold, Decay, Sustain, Release) looping envelopes with sync
• 256 Presets -16 banks of 16 patches
• Syncable Arpeggiator and Step Sequencer
• Classic Moog Ladder Filter with resonance, MultiDrive, and selectable filter slopes.
The Sub 37 Tribute's new features include Duo Mode, which allows oscillator 1 and oscillator 2 to be played independantly, programmable arpeggiator/step sequencer, two modulation busses with assignable source and destination options, access to 256 presets, and a 37-note velocity sensitive keyboard with aftertouch.
A fully featured mixer section contains dedicated controls and mutes for each sound source, as well as a level control for External audio input and Feedback – which feeds the output of the filter directly back to the input of the mixer.
Also included are the powerful DAHDSR envelopes from the Sub Phatty with panel control of each extended function.