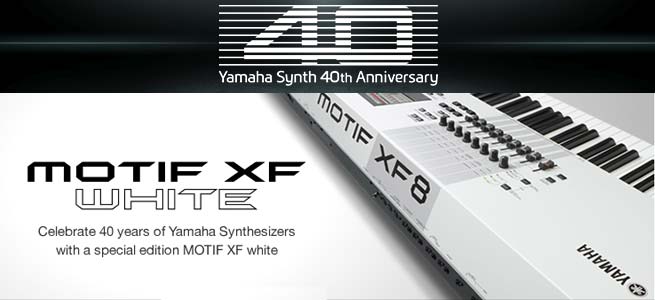 Yamaha introduces the special edition MOTIF XF White to celebrate their 40 years of synthesizers since 1974.

The commemorative MOTIF XF WH synthesizer is pure white which symbolizes the company's milestone and continuous production of synths in the future.
MOTIF XF WH comes with the updated OS version 1.5 which features three new reverb variants – HD HALL, HD ROOM, and HD PLATE. The high-density reverb already used in the CP4 Stage and Tyros 5 is now also available.
New effect programs have also been added to the distortion and amp simulation section. The basic parameters are the same as those in the existing Distortion effect types, but the new effects offer more realistic and characteristic amplifier sounds. – US Combo, Jazz Combo,
US High Gain, British Lead, Multi Efx, Small Stereo, British Combo, and British Legend.
For more info, check it out HERE
Free App Downloads
In addition to the commemorative MOTIF XF WH, Yamaha is also offering free download of seven apps for use with musical instruments. Mobile Music Sequencer is free until September.
Mobile Music Sequencer
100% Off Sale for a limited time! (July 17 – Sep 30, 2014)
Now free from July 17
– Cloud Audio Recorder
– Cloud Audio Recorder for MOTIF XF
– Multi Editor Essential
– Performance Editor Essential
– Voice Editor Essential
– Faders & XY Pad
– Set List Organizer