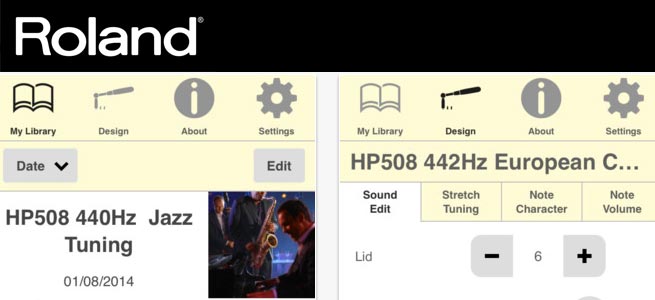 Roland recently released a new app – Piano Designer – which helps you to personalize the sound of your Roland digital piano.

Inside the instrument are many parameters that allow you to finely adjust the sound elements of the piano, much in the same way that an experienced piano technician fine-tunes an acoustic piano for a particular artist or musical style.
– Parameters related to lid position, strings, and hammers are listed at a glance, and can be edited and transferred to the piano easily.
– Enjoy playing your Roland piano with sounds fine-tuned by famous piano technicians.
– Graphically adjust the pitch, level, and tonal character independently for each of the piano's 88 notes.
Here are the Roland Digital Pianos compatible with Piano Designer app:
LX-15e, HP508, HP506, HP504, DP90Se, DP90e, FP-80
You can know more details and download the free app via:
Apple app store: https://itunes.apple.com/us/app/piano-designer/id901766931
Google play: https://play.google.com/store/apps/details?id=jp.co.roland.PianoDesigner