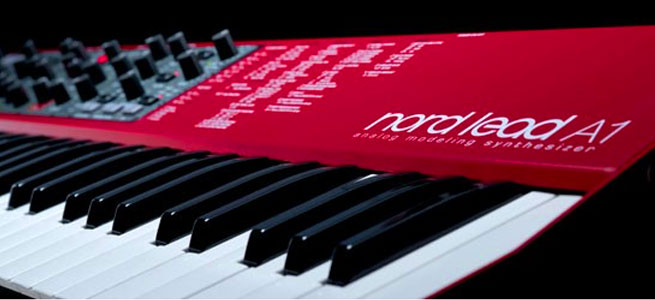 NORD just released a new update – OS V1.12 – to the NORD LEAD A1 analog modeling synthesizer as well as some great new sound demos from Richard Devine, Federico Solazzo and many more.

The new OS update comes out on April 2nd with bug fixes and new features: Ensemble effect is now in Stereo and the TB Filter has been tweaked for even more authentic behavior.
– Multi Focus morph programming now sets the same "end" value for all slots, but the morph deltas might be different.
– Go between the modes and bring your slot buffers with you by pressing Copy while changing mode.
– Fixed MIDI Bank/Program Change issue regarding what bank to use after turning dial.
– Like lists does now include morphs
– Amp and Mod envelope now climbs towards sustain level as the decay knob is turned upwards while holding a key.
– Master Clock keyboard sync now works with sustain / hold.
– The Ensemble effect is now working in stereo.
– Adjusted TB filter to become more like the original level-wise.
– Fixed bug where Global MIDI channel did not take precedence over slot channel if in conflict.
– Fixed bug where System Settings was sometimes not reloaded after a Restore operation with Nord Sound Manager.
– Fixed bug where synth would hang if USB MIDI queue got full. (e.g issuing a Restore from Nord Sound Manager while playing USB MIDI to synth).
– Introduced a window that lets note into the arpeggiator just after a note has been trigged (to simplify playing when in mst clk mode).
Check out some new sound demos below: