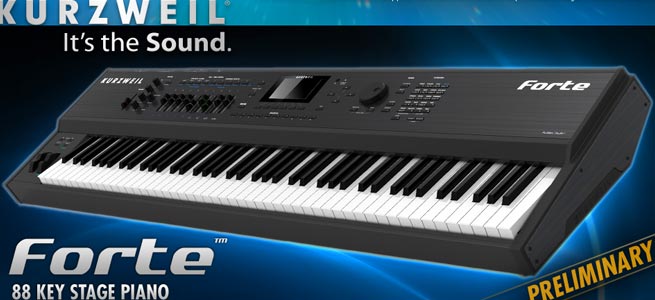 Kurzweil Music Systems unveils the new Forte 88-key Stage piano which was first seen at the recent Frankfurt MusikMesse 2014.

Forte will be Kurzweil's first keyboard to feature FlashPlay which enables 16GB of sample content, with extremely low latency and zero loading time. The 16GB of sounds include hand-selected German and Japanese concert grand pianos, as well as new Rhodes, Wurlitzer, Clav and Harpsichords along with a wide selection of sounds coming from PC3 and KORE 64.
Check out for full specifications: http://kurzweil.com/product/forte/specs/
Overview and Features:
– 16 Gigabytes of All New Sounds
– Brand new Japanese AND German Grand Pianos, Vintage '77 and '73 Tine Electric Pianos, Wurly, Clav, Harpsichord, Celeste, and more
– Patented FlashPlay Technology
– KB3 ToneReal Organs
– Powerful FX Engine
– 88-note Italian Hammer-Action Keyboard
– Front Panel Master Compressor & 3-Band EQ
– 23 Programmable Physical Controllers
– Easy Access Controls
– Widescreen Color Display – New UI with widescreen color LCD display
– Sliders with LED ladders
– Sound Selection, Favorites Section, Software Editors
– KORE64, PC3, and Artis series sounds
– Dedicated master EQ and Compressor
Also, check out the video below from Audiofanzine during the MusikMesse 2014 to see the Forte in action. What do you think?