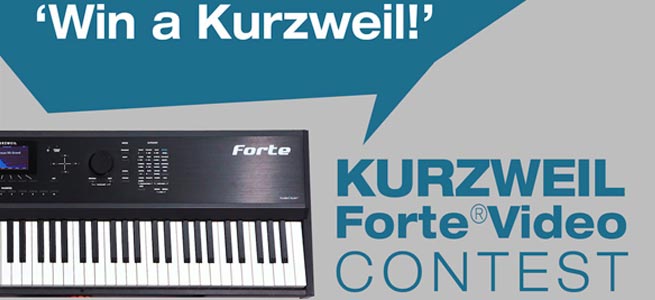 To celebrate the launch of the new Forte stage piano, Kurzweil is having a video contest their loyal customer base.

The entry period is from October 24th to November 30th. To join the contest, create 1 video / 1 song (5 minutes max) using any Kurzweil brand instrument and get the most likes on your video.
1. Simply upload a video of yourself playing a Kurzweil instrument to YouTube.
– Add the text '"Kurzweil Forte" Video Contest" somewhere in your video.
– Send an email with the link to your video (jameshong@ycpiano.co.kr)
2. Play a cover or original song using Kurzweil keyboards and Kurzweil sounds.
– Overdubs and multi-camera use are both permitted.
– Please use only Kurzweil brand keyboards and sounds.
3. Requirements
– Participants have to prepare their own equipment for video and audio recording.
– High quality video is not mandatory but the audio must be recorded using the instrument line outs.
AWARDS
Gold Prize – Forte 1 unit
Silver Prize – PC3A 1 unit
Bronze Prize – Artis SE 1 unit
The prize winners will be selected and announced by Kurzweil HQ based on likes within this year.
Check out here for more details: http://kurzweil.com/news/59/