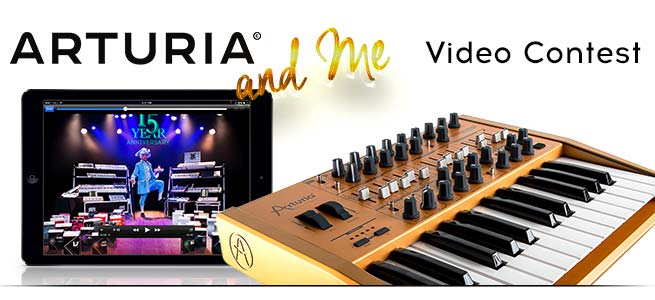 Get the chance to be part and win some cool stuff on Arturia's 15th anniversary celebration by joining their "Arturia and Me" video contest.

In addition to 50% off on selected Arturia instruments which runs until September 8th, the company also added a video contest to celebrate their 15 years of in delivering synthesizers and drum machines.
To join the contest, submit your best video describing your relation with Arturia products. Winners get these prizes:
– The best movie will be shown during the 15th Anniversary Event, on October 3rd in Grenoble, France.
– The winner will receive an exclusive and unique Gold version of the MiniBrute SE.
– From 2nd to 5th, the prize is a regular MiniBrute.
– From 6th to 15th, the prize is a BeatStep.
The contest runs from August 29th to September 29th 2014.
– Link to download files must be sent to videos@arturia.com.
– Videos must be 45s to 3mn long.
– Videos can't be uploaded on Youtube and made public before the end of the contest.
– Name, address and email are needed.