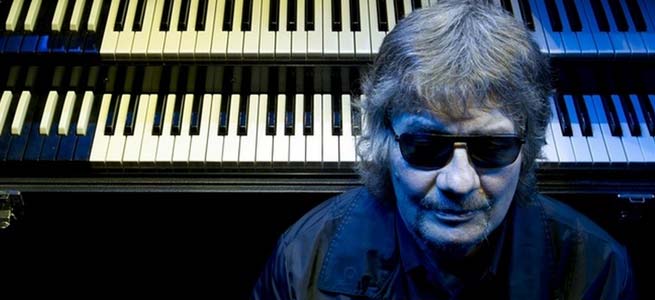 Deep Purple keyboardist Don Airey recently released his latest solo album "Keyed Up" via Mascot Music Productions and Publishing BV.

The album is now available on iTunes and Amazon – containing 11 tracks.
iTunes: https://itunes.apple.com/gb/album/keyed-up/id798813138
Amazon: http://www.amazon.co.uk/gp/aw/d/B00HHIN9OM/ref=mp_s_a_1_1?qid=1391348374&sr=8-1&pi=AC_SX110_SY165
Tracks:
1. 3 In the Morning
2. Beat the Retreat
3. Blue rondo a la turk
4. Solomons Song
5. Claire d'loon
6. Flight of Inspiration
7. Inside the Godbox
8. Difficult To Cure (2013)
9. Mini-Suite: a. Lament / Jig / b. Restless Spirit / c. What Went Wrong (feat. Gary Moore)
10. Adagio (feat. Gary Moore)
11. Grace
Moreover, he will be on tour this entire month of March in Europe for "Keyed Up". Tour dates and venues are below. Check 'em out.
March 13 – Rock City – Uster, Switzerland
March 14 – Colony Club – Brescia, Italy
March 15 – Peocio Club – Torino, Italy
March 16 – Angelo Azzurro – Genova, Italy
March 17 – Interstate Studio 270 – Tricesimo, Italy
March 18 – Reigen – Vienna, Austria
March 19 – SK Blue Note – Nove Mesto Nad Vahom, Slovakia
March 20 – Melodka – Brno, Czech Republic
March 21 – Exit Chmelnice – Prague, Czech Republic
March 22 – Uhlenspiegel – Leonberg, Germany
March 23 – Zaal De Bret – Genk, Belgium